Michael Repper, the Mid-Atlantic Symphony Orchestra's new music director, is now a Grammy-nominated conductor.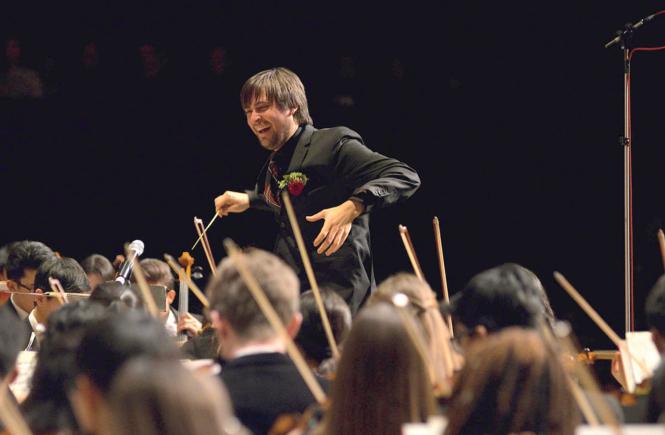 Repper, who also serves as music director of the New York Youth Symphony through the end of this season, led the Manhattan-based student orchestra on its debut album, which has been nominated for the best orchestral performance. The Grammy will be presented on February 5 at the 65th annual Grammy Awards ceremony. The untitled New York Youth Symphony album likely never would have been recorded were it not for the COVID pandemic. During that time, live performances were canceled for both the spring and fall semesters for his student musicians, and Repper embarked on creating some sort of virtual performance. 
With the lockdown in New York occurring just a week before the orchestra's March 2000 Carnegie Hall concert, Repper says, "I was looking for an educational experience for these young musicians that would be energetic, rewarding, and safe. So I thought of an album. All you have to do is get the whole orchestra together in a room and hit the record button. But obviously, that was impossible."
Not so, it turned out. Together they proceeded, playing safely distanced, masked where possible, and remotely in some cases. Not one of the 120 musicians, including Repper, got infected with COVID. As for the Grammy nod – the first ever for a pre-college ensemble in the orchestral performance category – Repper says, "To get the nomination was a big cherry on top of the whole amazing experience."  
Besides the New York Youth Symphony's performance of works by African-American composers Florence Price, Jessie Montgomery, and Valerie Coleman, the other Grammy orchestral nominees include Dvorak's Symphonies No. 7-9 with the Los Angeles Philharmonic conducted by maestro superstar Gustavo Dudamel and "John Williams – The Berlin Concert," with the Berliner Philharmoniker under the baton of the composer famed for his movie scores. Also nominated are performances by college musicians. One of which is John Adams' "Sila – The Breath of the World" with Doug Perkins conducting University of Michigan chamber ensembles. The other is "Eastman: Stay on It" – Christopher Rountree leading his Wild Up contemporary chamber orchestra in an improvisational piece by the late Julius Eastman.
Besides COVID, also dominating the news at the time were issues of social justice sparked by the murder of George Floyd. Together, Repper and his young musicians shaped a music program by African-American women composers, who had long been underrepresented in terms of both gender and race. "We need to promote music that deals with these issues," Repper says of their choice of works. 
To that end, including Price on the album was a no-brainer. Born in 1887, she is recognized as the first African-American woman to have her composition performed by a major classical orchestra, the Chicago Symphony Orchestra. Price's Piano Concerto in One-Movement, performed with pianist Michelle Cann, and "Ethiopia's Shadow on America" are featured along with pieces by contemporary American composers. "Umoja: Anthem of Unity," by Coleman, 52, was the first orchestral work by a living African-American woman performed by the Philadelphia Orchestra, which also commissioned the piece. Montgomery, 40, who is represented on the album by "Soul Force," played violin with the New York Youth Symphony in her teens. She's now the Chicago Symphony's composer-in-residence.
Fitting right with his penchant for working with young musicians, Repper's next appearance for his new orchestra is as judge of the MSO's Elizabeth Loker Concerto Competition. The live-performance finals of the national competition are at the Avalon Theatre on January 12. The finalists are flutist Ethan Nylander (Townsend, DE), violinist Elizabeth Song (Haworth, NJ), violist James Kang (Newark, DE), and pianists Philina Zhang (New York City, NY), Valerie Wellington (Kansas City, MO), Hoazhou Zang (Philadelphia, PA), and Emma Taggart (Brooklyn, NY).
The $2,000 top prize winner will perform with the full Mid-Atlantic Symphony Orchestra in Easton, Ocean Pines, and Rehoboth Beach March 10-11. In addition to a $500 prize, the runner-up will play in the MSO Ensemble Series sometime next season.
Steve Parks is a retired New York arts writer and editor now living in Easton.
Elizabeth Loker Concerto Competition 
Finals
January 12, 7 p.m. Avalon Theater, Easton, midatlanticsymphony.org
Concerts featuring the winner: 
March 9, 7:30 p.m., Easton Church of God, Easton
March 10, 7:30 p.m., Community Church, Ocean Pines; 
March 11, 3 p.m., Epworth United Methodist Church, Rehoboth Beach
65th Grammy Awards Show
8 p.m. Sunday, February 5, on CBS from Los Angeles